Anyone interested in more information about the Lotz House Museum or our special events can reach us at:
The Museum is open seven days a week. Monday - Saturday 9:00AM to 5:00PM, and Sunday 12:00PM to 5:00PM.
An admission charge of $5.00 for Adults, $4.00 for Seniors (over 65), and $1.50 for Children under 12 is payable in our gift shop at the start of each tour.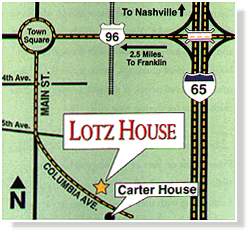 Special group rates are offered by our museum. Any group of twenty or more adults will receive $1.00 off each individual ticket. Also, any school group of thirty or more students will be admitted for $1.00 per student. Accompanying teachers and chaperones will also be admitted for $1.00 each.
A tour through the Lotz House Museum consists of our exhibit areas, "period" room, and a guided tour describing the house, its builder, and the battle of Franklin. Visitors are encouraged to take as much time as they wish to leisurely wander through the museum.

home | special events | where we are | genealogy service | gift shop