While visiting the Lotz House Museum our guests will have ample time to browse through our gift shop. Well stocked with merchandise that reflects our War Between the States and Old West theme, our gift shop has something for everyone. We keep a large selection of books, audio and video tapes, CDs, limited edition art prints, T-shirts, flags, toys, license plates, artifacts, and much, much more on hand at all times.
Our book department contains many titles relating to the Army of Tennessee and the 1864 Tennessee Campaign. Bibliographies of some of the War's most noted leaders, as well as local histories and children's books are also for sale.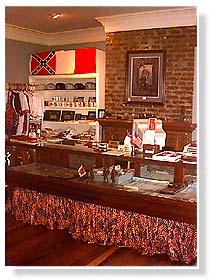 We stock a wide variety of T-shirts with southern themes as well as neck ties. If you are a coffee drinker then maybe one of our Lotz House coffee mugs, or a mug with a Civil War theme will quench your shopping needs.
The gift shop is open seven days a week. Hours are Monday-Saturday 9:00AM to 5:00PM, and Sunday 12:00PM to 5:00PM. There is no charge to visit our gift shop or to walk around the grounds of the Lotz House Museum.
The Lotz House Museum is now accepting MAIL ORDERS! Call in your order for any of the merchandise that we have to offer in our gift shop. A shipping and handling charge will be added appropriate to the order. And, to make paying for your order more convenient, our gift shop is now accepting VISA and MASTER CHARGE. To place an order please call: (615) 791-6533.

home | special events | where we are | genealogy service | gift shop